Bilbao: finalist city. World Design Capital 2014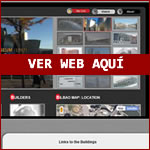 Finally Cape Town will be the world design capital in 2014.
In Vidactio we made a multimedia website to whish good luck to Bilbao that also serves us to show some of the possibilities of interactive video.
---
– The website is made on the fly according to the content shown on the video playing.
– Images and text appear and are clickable so that the viewers can access any time (in a shopping-cart style) the content that has grabbed their attention.
– You can see the presentation at http://www.vidactio.com/bilbao2014 or click on the image below to see a couple of screenshots.
---
The video is property of Ayuntamiento de Bilbao, Diputación Foral de Bizkaia and Gobierno Vasco. The images (buildings and architects/designers) are also property of their repective authors